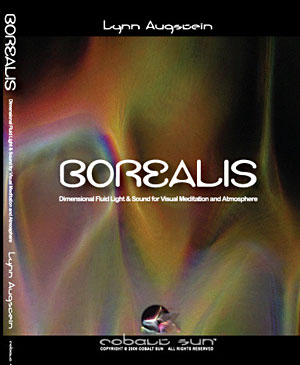 Borealis, the DVD
. . . . . . . . .

Created with halogen light projectors and without computer enhancement, "Borealis" is a one-hour light and sound immersion. Augstein describes it as "dimensional fluid light and sound designed for visual meditation and atmospheres."
Augstein's undulating, flowing light images in "Borealis" are enhanced by an etheric, transcendental music soundtrack from Steve Roach, David Parsons, A Produce, Ranga and others, including Dwight Loop, who also compiled the soundtrack.

Lynn Augstein's "Borealis" DVD
$15.00 (plus shipping, MC, Visa, PayPal - CA sales tax where applicable)





. . .
Mystic Pop Magazine: "What a beautiful DVD Cobalt Sun has created. This is a blissful experience for all of your senses at one time... I just sat back and let the sounds and colors wave over me as I relaxed into a sense of calm, peace and serenity." (Hot Picks, Sept-Oct 2006)
. . .
Michael Diamond (Web Media/Music Reviewer):
"So many of todays music videos and DVDs are ultra fast-paced and grab your attention, manipulating your perception and leaving little room for the imagination. Borealis is quite the opposite. It moves slowly and gracefully and invites you into its ambient embrace. It differs, even from other works in this genre, in the way color is used. A number of visionary videos I've seen use bright, saturated, candy colors. Lynn's use of color is much more subtle. It is certainly colorful, but the colors are soft and subdued, often over dark backgrounds that create a deep and mystical aura, much like the Aurora Borealis, referenced in the title.
Another element of its ambience is, of course, the music, which ranges from dreamy and other-worldly to more this-worldly with ethnic influences and percussive grooves over an electronic tapestry. Some of my favorite selections were by Steve Roach, David Parsons, and collaborator Dwight Loop, who also helped produce Borealis."
. . .
R J Lannan (New Age Reporter): "Of course after just one minute of play I was enthralled. Serenity…the project is stunning and I can't for the life of me imagine what a live performance would be like."
. . .
Jon Wadsworth, Floating Worlds: "Cobalt Sun's Borealis illumines the ephemeral heart of perfect repose, where spirit embraces form and form reveals spirit;  an experience of profound peace."
. . .
Jamie Freeman - New Age Retailer: "The title really says it all. "Borealis" uses halogen light sources on a variety of fabrics and surfaces to create beautiful light displays similar to the natural Aurora Borealis of the Northern Lights. With music from popular new age artists, the light show is transformed into a meditation aid. Imagine the change in the ambience with this projected against the wall or ceiling of your store. The DVD contains a light and sound journey that lasts just about an hour. There is a 10-minute interview with the artist which alone is worth the price of the DVD."
. . .
Eurock Magazine Distribution-Archie Patterson: "This DVD is an amazing production by an SF light artist and her musical friends. It features unreleased music by all those artists that ranges the full spectrum of synthetic sound. Lynn creates fantastic light imagery which is indescribably surreal and beautiful. BOREALIS is a unique and transformational audio/ visual experience."
. . .






Steve Roach:

"...ultra-chill DVD!"


. . .




David Parsons (musician on DVD):

"I must say that I'm most impressed and again very flattered that you wanted to use some of my music for this.I find it quite inspiring to see visuals like this alongside my music. I really, really like the "Mandala" preview. I love the darkness and symmetry and the intense feeling of awe - in fact it inspired me to compose a new piece which I've called "Surya".


. . .




A Produce (musician on DVD):

"It's a beautiful package, but it's what inside that counts. Overall, well done- the overview of the interview with Lynn and the Cobalt Sun Gallery along with the preview of her next work really helps put all the pieces (and pictures) together."


. . .




Coen Helfenrath - Ranga Music:

"Amazing how you work with light and colors. Did you know that Range means 'color'?"


. . .




Dorit & Vito Z:

"Oh my what a beautiful gift you have sent us! 'Borealis' is stunningly gorgeous! You are so on the cutting edge and it tickles me that we got to see how you began exploring the idea and techniques with the simplest of materials - and of course the enormity of your imagination and creativity."


. . .




Kate M:

"It's so potent and powerful. Lynn's interview on B. was wonderful and the whole DVD is one of my favs."


. . .




Steve B:

"It is very well done, well above the various pretty new-age DVDs I've picked up lately.  It's been playing all day on repeat on our TV. "


. . .




MKZDK:

"It's awesome and delicious at the same time."


. . .


(Read a recent review of Borealis and Steve Roach's "Kairos" by "Echoes" radio producer John Diliberto here)


. . .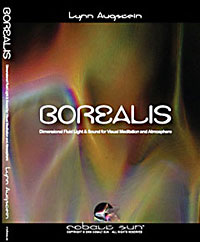 Lynn Augstein's "Borealis" DVD
$15.00 (plus shipping, MC, Visa, PayPal - CA sales tax where applicable)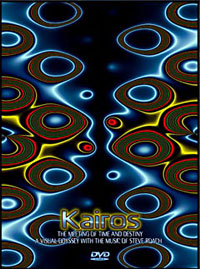 Steve Roach "Kairos: The Meeting of Time and Destiny"
A Visual Odyssey with the Music of Steve Roach
Featuring visual artists Lynn Augstein, Steve Lazur, Stephen Rooke, John Wadsworth, John Vega
$12.00 (plus shipping, MC, Visa, PayPal - CA sales tax where applicable)