Artist's Statement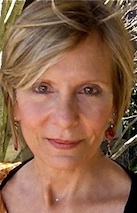 Light art transcends analytical interpretation. Light and color speak to us as a boundless expression of beauty on our Earth and in our Universe that is innately understood. I have been in the field of visual expression throughout my adult life with a foundation in Interior Design, Building and Space Design with a focus on color, dimension and scale. My overall emphasis has been the study of color and it's emotional impact on our well being in our living environments (see enclosed newspaper articles).

Light and Color make up a significant part of our perception of reality. It carries with it the potential for infinite expression and inspiration through the arts. In contrast to the artistic expression is the applied Science of Light and Color. Light is a key element in the field of communications with fiber-optic networking crossing continents and oceans. Lasers have become an important tool for precision measurements from construction to eye surgery, skin repair, etc.

Everyone has an inherent relationship to light and color. The potential for utilizing light as a tool to support health and healing - affecting the physiological, psychological and spiritual - has yet to reach it's full value as a non-invasive modality. Because of this aspect of my work, I wish to make my light art - as a form of "open eye meditation" designed to bring ease -available to health care facilities, spas, retreat centers.

In the late 80's I began to "play" with projected light. Since that time I have developed a process of transforming a simple incandescent halogen light bulb into light projections into a vast array of shifting, dancing, undulating forms of fluid light. Utilizing filters, gels and textures I am able to create infinite variations of light patterns that are not random, yet, not repeatable. These forms are intentionally designed by specific colors, shapes, movement, overlays and texture. These light images are not digitally composed, changed or computer enhanced.

Presented as an experiential art installations these unrecognizable fluid light images are projected on to gently blowing transparent fabrics (often hanging 20 to 40 feet) are then woven with musical atmospheres creating an infusion of color and light, textures, movement, animation and aromas that engage our attention and focus. Providing immersive experiences, the art installation becomes the laboratory itself, observing the effects to our emotional state and spiritual wellbeing.

When the science of light and art of light merge, the experience of the future becomes whole combining the intellectual and emotional. It is a place where the fullness of our creative expression becomes the highest potential in spirit and capability we have in our humanity and as a species.
- Lynn Augstein
Contact Lynn Augstein and Cobalt Sun: lynn@cobaltsun.net .
Press and Printables
"The Queen of Color" - Marin Independent Journal, 01/02
"Sensory Symphony: Painting With Light" - Marin Independent Journal, 08/05
"Ono/ Roach/ Augstein at SFMOMA" - Announcement Yoko Ono's YES show, Steve Roach with Lynn Augstein at SFMOMA
Cobalt Sun events and installations from 2001 to 2011: download PDF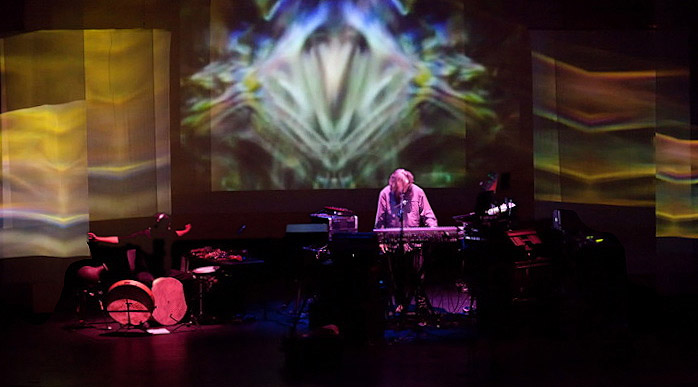 Sound Quest- Steve Roach Concert, Tucson AZ, June 2010
Live Performance Art, Installations, Conferences and Events





May 2011, "TED x Marin: The Communication Revolution"
Osher JCC/Kanbar Center for the Performing Arts, San Rafael, CA.
Stage and lighting design installation with lighting for lobby.


March 2011, "Ojai Playwrights Benefit Gala"
Matilija Auditorium, Ojai, CA. Auditorium lighting design and multi-media projections.

February 2011, "The Nature of Love" the NeXus, Richmond, CA
Featuring Todd Boston, Matthew Schoening, Ramish Kannan & Shambu. Full visual atmosphere and multi media video projections.

December 2010, "Radiance" the NeXus, Richmond, CA
Video projection and light projection atmospheres. Full Moon Winter Solstice Celebration, ceremony & ecstatic dance by Caroluna.

July 2010, "Meta-Morphis" Cobalt Sun Gallery, Sausalito, CA
Final event at Cobalt Sun in Sausalito. A sound and light meditation and celebration.

June 2010, Steve Roach "SoundQuest Fest" Tucson, AZ
Berger Performance Arts Center festival with Erik Wallo, Byron Metcalf, Mark Seelig, Loren Nerell and Steve Roach.


June 2010, "Maya Seed Ark Project- A Benefit for Life" Cobalt Sun Gallery, Sausalito, CA
Camila Martinez presentation for the preservation of authentic seeds throughout Central America with traditional music, video and slide show to raise awareness and funds to support education and seed banks.

May 2010, Cleveland Clinic Hospital "Arts and Medicine Institute" Cleveland, OH
Program designed to alleviate stress and enhance mood. DVD "Borealis" used in hospital emergency rooms, waiting rooms and patient rooms for relaxation.

May 2010, "Tibetan Bell Experience" Cobalt Sun Gallery, Sausalito, CA
Karma Moffitt - bells and bowls with atmospheric kaleidoscopic visuals.





March 2010, "Robin Red Breast" Cobalt Sun Gallery, Sausalito, CA
Matt Venuti on the hung with poetry by his late wife, Yolanda, John Steiner, keyboard. Designed visual environment with a visual collage of nature and views.


February 2010, Railyard Performance Center, Sante Fe NM
"Lucid" by Dream jungle - Dwight Loop, Michael Kott & Taressa Bell with video projection collage and multi dimensional fabric.

November 2009, "A Journey from the Heart" and "Shamanic Visionary Trance" Cobalt Sun Gallery, Sausalito, CA
German artists Mark Seelig - Bansuri flute with overtone chanting & Beate Maria Wappler, tamboura. Light projection and atmospheres.

August 2009, "Logos" Cobalt Sun Gallery, Sausalito, CA
A journey and deep space meditation of light and sound. Visual fields of light projection and video collage with music composer Dwight Loop, spoken word and poetry by Sarah Drew.

November 2009, "Luminous Emptiness" Naropa University, Boulder, CO
Integrated light projection video images backgrounds for stage performance.

July 2009, Karma Moffitt Concert, Cobalt Sun Gallery, Sausalito, CA
"The Tibetan Bell Experience," a sound and light meditations. Karma Moffitt on bells, horns, flute, bowls with atmospheric fields of colorful light projections.

June 2009, Desert Dwellers, The Gallery, Santa Fe, NM
Music by Amani Friend with video projections, fabrics and light.


November 2008, "Sensorium," Cobalt Sun Gallery, Sausalito, CA
Five performance presentations of sound, light and video as an immersive environments.

October 2008, Dream Jungle Concert, Aubergine, Sebastopol, CA
Video presentation for Dream Jungle "Lucid" concert.

May 2008, "Yuri's Night" at NASA Ames Research Center, Mountain View, CA.
Installation utilizing large planetary objects with light projection, visually supported by draped fabrics with cross beamed color enhanced lighting.

November & December, 2007 Lama Pema Tenzin, Cobalt Sun Gallery, Sausalito, CA
Thangka paintings exhibition by world-renowned artist Lama Puma Tenzin, with dimensional light and fabric arrangements for each painting.




Steve Roach concert live at Grace Cathedral San Francisco, CA
"Mystic Chords - Deep Immersions." Lighting and video collage in a cathedral environment.


June 2007, Steve Roach "Premiere Ultra Immersion Concert Tucson, AZ
All night immersive concert at Apache Springs Ranch.

May 2006, "Hunab Ku" at Grace Cathedral. San Francisco, CA
Dwight Loop concert "Hunab Ku" at Grace Cathedral. Lighting and video collage in a cathedral environment.


October 2005, Kyoto Institute of Technology, Kyoto, Japan
Invited by Gert Van Tonder, Lynn Augstein
gave a three day workshop of Perception and the Art of Light at the Kyoto Institute of Technology. A study designed with university professors on light projection art and effects on eyes and emotion.

August 2005, Steve Roach Live "Dreamtime Return on a Possible Planet". Cobalt Sun Gallery, Sausalito, CA
Immersive presentation of multi dimensional visual field of mixed digital video and live projections. "Surround light and sound".

August 2005, "The One" Cobalt Sun Gallery, Sausalito, CA
Collaboration that combines dimensional Holographic Light and authentic prayers from many sacred traditions, world wide. Elements combined to add up to a powerful immersive light and multimedia experience.





May 2005, "Reverence" Lynn Augstein, Cobalt Sun Gallery, Sausalito, CA
A dimensional light performance/installation with sound atmospheres. Kaleidoscopic light projections, video collage of natural environments including whales, dolphin, trees, running water all projected as dimensional images on transparent veils.


March 2004, "International Conference on Fractal Foundations for XXI Century, Architecture and Environmental Design" Madrid, Spain
Contribution of Light Projection footage for breaks at conference and Presentation by James A. Wise PH.D. at conference of "Fractal Structure as basis for positive results in the environmental research".

July 2004, "Ten Cosmological Powers of Love" Cobalt Sun Gallery, Sausalito, CA
A production by authors Pamela Eakins PH.D. and Cosmologist Brian Swimme PH.D. A presentation to facilitate a paradigm shift for humanity in this deep and reflective time of our history. This poetic journey presented as a complete experiential immersion of light, sound and spoken word. Light projection art and staging.

June 2004, Steve Roach "Towards the Dream" Palm Springs, CA
Electronic musician, Steve Roach in a proactive sound and visual odyssey at the 16th International Transpersonal Conference "Mythic Imagination". Designed the dimensional staging for both the conference, and for concert.

May 2004, "Tropozone" Sausalito, CA
A collaboration of Bay Area Musicians. Experiential music, video and light collage.

March 2004, "Arbre Noir Live" Freiburg, Germany
At the Planetarium Freiburg, Germany. German Ethno-Ambient musicians. Main contributor of light projection art for show at Planetarium.


November 2003, "Ultra Violet" San Francisco, CA
"Light Atmospheric" The opening gala for Color Marketing Group at the open Atrium, Hyatt Regency, Embarcadero. Seven stories of cascading, fluid fabric immersed in light and video projections.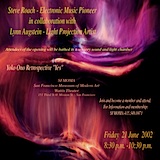 June 2002, "YES"- Yoko Ono show, SFMOMA, San Francisco, CA
Opening gala for "Yes" exhibit at San Francisco Museum of Modern Art Wattis Theater with internationally known electronic music performer Steve Roach. Dimensional fabric, staging and theater design with layered light projection art - a four-hour collaboration.

March 1-2 2002, "Space Between" Lynn Augstein SomArts Cultural Center, San Francisco, CA
Experiential installation 200 foot deep space of flowing veils immersed in kaleidoscopic light projections and music. Layers of liquid light in an intimate, interactive experience of light, sound, touch, and aromas. Separate stage area setting of split image video of natural images. First large scale installation.

February, 2002. "Exposure" SomArts Cultural Center, San Francisco, CA
A provocative evening of cutting-edge news documentaries, followed by experimental music and video projected multimedia presentation with projections and dimensional staging.

November 2001, "Kuxan Suum" The Cell Space, San Francisco, CA
Translation of the Mayan Calendar. Presented by electronic music artist Dwight Loop. Dimensional fabric installation accompanied by coordinated light projection art.

Lynn Augstein contact: lynn@cobaltsun.net